How To Build A Website? – Easy
Share The Knowledge




Would You Like To Know How Very Easy It Is To Build Your Very Own Website!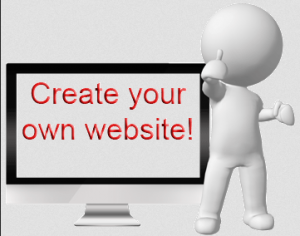 Building a website has never been easier!

Not only can I show you how to build a website –
I can show you how to do it for Free!
First – Let's Dispel Any Fears You May Have!
I know when I first considered pursuing an online income I was concerned about how much I did not know about computers. My story of how I was first introduced to this idea of online marketing and my ensuing journey you can read here.
I knew basic navigation of the internet and a few little other things like copying and pasting, and that was about it.
I didn't grow up with computers and I only came to own a computer in the past couple years. The only education I had ever received was some tutoring at the local library where I had learned the little I did  know. 🙂
As you are here and reading this, you have all the knowledge you need to get started.
There is no need for a college education and you do not need any programming skills – No knowledge of HTML or CSS coding required – No CMS knowledge required.
And it is a good thing, because I could not have even told you what any of those were when I started. 🙂
So How Do You Build A Website?
I am excited to share with you! 🙂
You will need a CMS – Content Management System. WordPress is a true CMS and the most used website framework in the world.
At Wealthy Affiliate WordPress Express is used which simplifies the process to four EASY steps:
First – Select your Domain Name – this is your Internet Address, your URL (Uniform Resource Locator).
Second – Decide on your Website Name – this is your invitation extended for visitors. This is based on your chosen subject of interest, your niche.
Third – Select a Theme Template – this is your choice of background for your website. As a starter member you will have approximately 12 theme templates to choose from.
Fourth – Click the Button – "I'm Ready, Build My Website Now" – and in approximately 30 seconds your website will be built!
Here Is A Video Demonstration!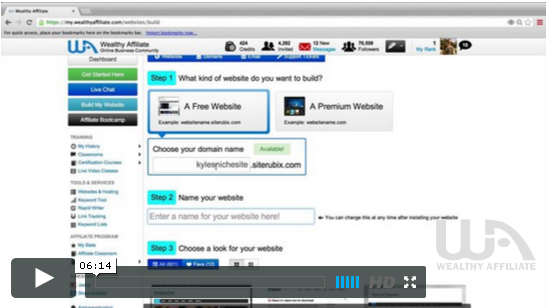 So What Did You Think? Is It Right For You?
You've seen how easy it is to build a website – anyone can do it – all you need is the desire and the willingness to supply the effort!
And remember at SiteRubix.com you can build your website for FREE, absolutely FREE!
There are absolutely no fees – no hosting fees, no domain name fees
FREE theme templates
You have absolutely nothing to lose and a new start just waiting for you!
If you watched the video you already know that you always have 2 Free websites, even if you should decide to trash one, you don't lose anything!
So Why Not Try It ? Go Ahead!  Now that you've seen how to do it!
Build Your Website!
Just type a Domain Name in and Press the Build It Now Button!
Then come back and tell me all about it! 🙂
Next Step!
Building your Website is building the framework for your new Internet Real Estate!
But before you are ready for visitors you will need to prepare your new Internet Home
So – In addition to your 2 FREE websites you will also have:
Training Galore – Wealthy Affiliate is a virtual Online University – There is the Getting Started Training (Level 1), Training Tutorials  & organized Course Training, Video Training and tons of  Blogs, many filled with a wealth of knowledge. You will even have the opportunity to create your own blog if you choose to. FREE
An Awesome Community – You will have the opportunity to be a part of an incredible community of internet entrepreneurs from around the world. There is always someone ready to answer your questions and to help you, as this community truly wants to help each and every member find their pathway to success! Not only can you post a question you are seeking an answer for, but there is also a live chat forum, and there is almost always someone available in the forum 24/7. Talk about networking, it doesn't get any better then this. FREE
Free Tools

FREE – Absolutely no cost, No money asked for, No credit card information required – ABSOLUTELY FREE
If you haven't already set up your Starter Account for $0 just click here, and get started.
If you would like more information on the FREE Starter Account Program or Wealthy Affiliate's Paid Membership Program please read my Getting Started page.
If you would like to share, please feel free to do so below!
Share The Knowledge